Project Basics

Goal:
To build community and enable all forms of sharing and expression by providing an outdoor gathering space in the heart of the neighborhood.
Years active:
2010-present
Website:
www.issundays.org

What We've Learned




If you have a dream, just start. Start anywhere, start small, don't worry if you are inexperienced, just keep going.
Process is as important as results; you have to enjoy what you're doing.
Celebrate your successes.

Project team:
6 or so core team members
Contact:
iss@inner-sunset.org
ISPN involvement:
Fiscal sponsorship, insurance, general advice. Several ISPN board member(s) are personally involved in ISS.
Get involved:
Join the organizing team, make something happen at an event, donate.
The Full Story
by Adam Greenfield, co-organizer
Inner Sunset Sundays (ISS) is an evolving series of street events organized by neighbors in the Inner Sunset. The events are intended to provide a space for local people to meet and interact, share their talents, build and celebrate culture, and so on. We contrast these events very strongly with the "usual" kind of street fair, which focus more on commerce and less on people interacting and are organized by non-local organizations.
Humble beginnings
ISS began as a meeting between Chris Duderstadt and me at the end of 2009. Somehow Chris and I each got wind that the other person was interested in a street event, so we met and soon decided to do it. Chris said "How are we going to do all the many things required to put this on?" and I replied, "I don't know but we'll figure it out!"
We organized the first event in 2010 and it was known then as the Inner Sunset Street Fair. There was a large performance stage, chairs and tables on Irving Street, and 30 or so booths around the corner on 10th
Avenue. It was a cautious start: we didn't have any food (a must for any well-used public space) and there wasn't much for children. And the weather was freezing!
But I'm still proud our team pulled it off; we'd no previous experience and we really pushed the boat out, for ourselves and for the neighborhood – this was the Inner Sunset's first ever street event. Looking back, I understand that it is fine to start small, it is fine to make mistakes; the important thing is to go for it, do your best, learn from your successes and mistakes, and keep going.
Back with a bang
In 2011 we returned and planned a lot further in advance. Our team grew, we began to meet weekly, we outreached better with merchants and residents, and we fundraised much more effectively. We were learning a lot. It wasn't always easy, though. I forced a schism in the team when I pushed hard for bringing the event down 9th Avenue between Irving and Lincoln (the main traffic artery into Golden Gate Park from this direction), which would have cost an estimated $10,000. I eventually backed down from that idea.
We also got pushed back from a neighbor on 10th Avenue (between Irving and Lincoln) about taking the event down that street and we had to change plans again, although strangely enough I think the final location choice was the better for the change; an instance of an enemy being a friend in disguise.
Further troubles came internally, as members of our team would often get downhearted usually because we felt we were taking on too much, we were too isolated, or we had too much to do in too little time. Nonetheless, as before, a hard deadline – October 14th 2011 – forced us to get it done.
And guess what? The result – the Inner Sunset Street Fair 2011 – was a whopping success. The event was rich with features – two entertainment areas (but not elevated like in 2010), a Choose Your Ceremony booth, a bouncy castle, features organized by neighbors such as a Kids' Disco Tent and a Parents' Group play area, Box Mountain, a photo booth, lots of arts and crafts booths, and a live history presentation at the end of the day. There was so much to do. The atmosphere was so exciting, rich with activity. Co-organizer Thomas and I kept trying to visit all the booths for review purposes, but we kept getting sucked into conversations with familiar faces – we never made it to more than 5 booths! Where I think the event succeeded best was by providing a lot of activities for children, featuring good food options, a less overwhelming sound area, encouraging more neighbors to participate in bringing features to the event, and most of all having a homegrown community-organized feel.
Back to the drawing board
Our team was thrilled with the 2011 event but it would have been a huge mistake to merely repeat our success. It may surprise you that we were actually quite critical of the event. The fair's size drew thousands of people but perhaps created too large a crowd, which can dwarf people and discourage interaction. There was perhaps too much to do at the event – it was overwhelming. But we also felt that one annual event was too infrequent to effectively build community; and if the weather was bad on that one day (as in 2010) then a whole year's work would be spoiled.
After many discussions, the team decided to rethink everything. We would produce four events in 2012 (one in September, October, November, and December), the events would be much smaller – just one block (Irving Street between 9th and 10th Avenues), and we would focus on participation and interactivity. The events would be renamed "Inner Sunset Sundays" (ISS) to reflect our philosophy that this was not just a "buy more stuff" street fair; it was organized by the community, for the community.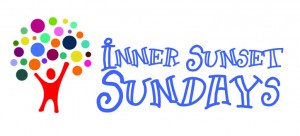 A vision that certainly inspired me was that of the traditional European plaza, which the US lacks. In such public spaces, citizens gather to people-watch and meet their friends and neighbors; and there are all the events that mark the passage of life – coming of age, harvest celebrations, theater, debates, and so on. A healthy society provides spaces for its people to express themselves. The idea of this happening in the Inner Sunset was and is exciting to me. While the question remains open as to if we will ever see a plaza in the heart of the neighborhood (which is the only place it would work – you can't put plazas out of the way or people won't go there), I liked the idea of at least facilitating such a space for several days a year.
As in previous years, there were many challenges. We didn't know how much it would cost to produce events and some team members were reluctant for us to commit to such a large undertaking as four events. But I felt it was right to push ourselves again, even though we didn't know how we were going to pull it off. Despite my outward can-do attitude, I also experienced some anxiety and would sometimes wake up in the middle of the night with ISS on my mind.
Making these events happen took a lot of work and we continued to learn many lessons and achieve new successes. For instance, we improved our outreach to the local merchants, a key component of making the events successful. Merchants can appear a sullen lot at times, hard to contact, difficult to please, and prone to thinking that it would be bad for business if things changed significantly from the way they are now. But we dropped more informational flyers into businesses, gathered more email addresses, and especially kept the merchants on the block we intended to use informed.
One of the best parts of working on these events was seeing our team grow. I really enjoyed building trust and rapport with existing team members and seeing them grow as organizer; for instance, Walter, who joined us late in the 2010 season, has become a key team member. He's dedicated and follows through on his commitments. His finest moment of glory came at the end of the final ISS 2012 event in December when he pulled off an extraordinary feat: a 90-person after-dark orchestral performance by Ruth Asawa School of the Arts. We also got a big emotional boost from new dedicated members, such as Judy and Erin who managed our booths. Now the ISS team is a small community of its own. We are proud of what we've achieved and glad to know each other.
I believe that process is at least as important as end results. So, whether or not the ISS events were to be successful it was critical that the build-up be valuable: team members should enjoy themselves, they should learn new skills, and they should build a positive rapport with each other.
After many months of work, the first big day arrived. I got up at 5:30am and ate my breakfast with heavy eyes before heading out into the cold pre-dawn. I made it down there just as Chris and a few others were dragging the barriers across the street. It is quite a sight to see a street usually full of dangerous cars emptied and prepared for community gathering. Gradually, our team grew as more people came down to help set up: informational a-frames and noticeboards, Mexican flags, benches, chairs, tables, and canopies. Randy, our audio guy, showed up to set up the audio stage. As the sun rose, the street started to look something like what we imagined. It is empowering to see something that has existed in one's mind eye for some time come to life.
And come to life it did. That first event on September 9th 2012 was a special day. Lots of live music, children's games, a craft table, food, interactive features, and lots more. Wherever one looked there were people playing, talking with each other, watching each other. This was a real life vision of how good life could be if we valued our public spaces as more than just moving through. The ISS team met lots of people and made many new exciting contacts to contribute to future events through our Get Involved forms. Using every event to build your contacts and recruit is crucial.
The next three events on October 14th, November 11th, and December 9th were great successes too; and the benefits of multiple smaller events over one large event became clear: Our learning increased more quickly, new contacts could be mobilized soon, and people got used to this kind of event. Key lessons included borrowing chairs and tables from neighbors instead of rent them, not letting the events go on too late, and bringing the entertainment closer to 9th and Irving pedestrian traffic. And we had themes for each event, which made things different every time.
Looking to the future
The ISS team was very pleased with how things turned out. Our celebration meal after the final event was a truly merry occasion. To me, the events showed that we are on the right track: People had a wonderful time and the City government took notice that something good is happening here. As I write, we are unsure of the future but are committed to forging ahead.
Watch this space…