ISPN announces the 2017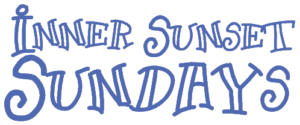 presenting the

Inner Sunset Sundays presents the Inner Sunset Flea, a family-friendly event for the community, by the community. Come sell or buy a bargain, grab some food, play a game, share an activity, or sit and enjoy the scene. Join us on the second Sunday of the month from May to October 2017.

Neighbor and professional vendors, activities, food, and more!

DATES
May 14th, June 11th, July 9th,
August 13th, September 10th,
*October 15th
LOCATION
Irving Street (9th – 10th Avenues)
HOURS
10am – 4pm
We would like to thank Inner Sunset Flea for their energy and enthusiasm for moving this event forward.
More information
www.ISFlea.com